As you've probably guessed, my name is Morven-May MacCallum and I'm from the beautiful and sunny Highlands of Scotland (Ok, the sunny part might be wishful thinking!) and this is my website where I will talk about all the things which are important to me – from my recovery and awareness campaign to my adoration of writing.
In 2009 I was preparing for a new adventure, in a new city, when I was (rather against my will) enrolled in a very different university to the one I'd been planning on and that was the harsh university of life. During my time of being housebound and bedbound for eight years…I perfected the skill of being chronically ill with Lyme disease. Although graduation (AKA complete recovery) is yet to be found…I am delighted to say that day release is permitted. With my health greatly improved, I have decided to share what a life with Lyme is really like through my characters Joyce, Aunt Beth and Logan.
Writing is something I have always been passionate about. I adore words and there ability to hold so much power! I can't wait to see where my next piece of writing takes me.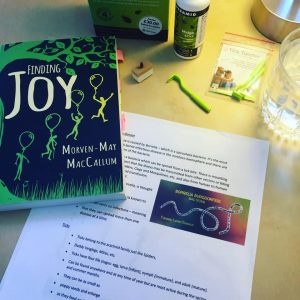 I currently work to raise awareness of Lyme disease, through Finding Joy, by giving talks, interviews and book signings at schools, festivals, universities and charity organisations etc. If you'd like me to come and speak to a group then please feel free to get in touch through the link provided below, whether it's a business engagement or if you just fancy sending me your thoughts on my novel – I'd be delighted to hear from you!
If you would like to reach me by email then please go to my contact page here
You can also follow my adventures by clicking on the following: